Global Herbs Alphabute Super - 1Kg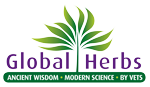 Alphabute Super can be used as a quick acting soothing formula. It is particularly useful after your horse has been requiring assistance for a number of months, but is not a substitute for the careful attention of your vet.
•For maintaining joints and soundness in the long or short term.
•Whenever your horse is restless in the muscles or tendons.
•For backs
•For all laminae
•After a fall to support normal, natural healing.
•After hard exercise to support normal, natural healing.
•Routinely after heavy road work.
•In conjunction with Movefree or Glucosamine products.
Code:

Z945

---

Colours:

N/A,

---

Sizes:

1 KG,

---
Indications of stock availability are for guidance only. Stock availability is subject to change at any time without notice. Availabilty will be confirmed at dispatch.