Global Herbs Supercalm Liquid - 1 Litre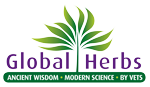 SuperCalm maintains a relaxed and easy to manage horse, whilst providing the best nutrition for natural living, fitness and strong body defences. It is possibly the most effective supplement in its class and works by utilising effective tropical herbal nutrition. It works quickly within 2-3 days, sometimes with a slight 'tonic' effect during this period, and this special liquid formula is palatable, quickly absorbed and easy to feed.
If, despite good advice on management and feeding, your horse remains difficult to manage - daily SuperCalm promotes calm, relaxed attitude for safer handling
For nervousness in any form
For competition horses to assist in training and preparation
For settling horses in new environments
For travel and stressful situations
For over active horses
For maintaining good behaviour
In combination with FriskyMare during the breeding season
Code:

Z939

---

Colours:

N/A,

---

Sizes:

1Litre,

---
Indications of stock availability are for guidance only. Stock availability is subject to change at any time without notice. Availabilty will be confirmed at dispatch.