Global Herbs Rebuilder-1kg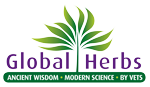 Supports regrowth of laminae and other areas of the body

This traditional formula is a great help if horses need extra nutrition after a period of difficulty with their sensitive laminae. Use in conjunction with LPS and if necessary continue feeding for several months until fully mobile and comfortable. It is also an effective relaxing mix thus helping horses chill out when subjected to box rest and provides extra Biotin for good horn production.
For good recovery after all health problems
As an antioxidant formula for regular use
As a calming agent
Tendon nutrition with MSM
Code:

Z984

---

Colours:

N/A,

---

Sizes:

1kg,

---
Indications of stock availability are for guidance only. Stock availability is subject to change at any time without notice. Availabilty will be confirmed at dispatch.