Global Herbs Old Age -1kg Tub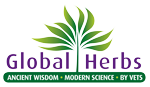 Help your horse in a few days. Saves you trouble and heartache.

A formula specifically designed to support the aging process and maintain suppleness, energy and general body condition. Supports the immune system and helps to maintain all the internal organs. Do you want a 4 year old again? Perhaps not! But ...
Quick, effective support
Perfect for the older horse
Code:

Z978

---

Colours:

---

Sizes:

---
Indications of stock availability are for guidance only. Stock availability is subject to change at any time without notice. Availabilty will be confirmed at dispatch.