Global Herbs Fennel Seeds-1kg Tub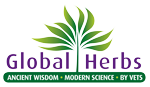 For fussy eaters or those prone to gas.

Fennel seeds can have a relaxing effect if stomach and digestion is gassy. They can also help to maintain a healthy appetite and milk production, especially in the first days following foaling. Horses know when they need fennel. Offer a handful and see the difference when they are feeling uncomfortable.
Traditional effective comfort
Promotes normal digestion
Simply mix with feed
Code:

Z958

---

Colours:

N/A,

---

Sizes:

1kg,

---
Indications of stock availability are for guidance only. Stock availability is subject to change at any time without notice. Availabilty will be confirmed at dispatch.