Global Herbs Gastrofix-1kg Tub
Formally Known As Diareeze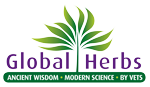 For firm droppings

Gastrofix helps maintain normal droppings in a wide variety of situations. A very efficient and natural way of soothing faecal consistency. May also be used with Prebioherb as required.
To maintain normal, healthy stools
To keep the bowels clean
Code:

Z953

---

Colours:

N/a,

---

Sizes:

1kg,

---
Indications of stock availability are for guidance only. Stock availability is subject to change at any time without notice. Availabilty will be confirmed at dispatch.